Frequently Asked Questions
It is truly important that I work with the right couples who value photography and my creative skills and because of this I do not take every wedding that I am approached about. You deserve the absolute best! That is why it is so important that you make sure Iryna Shostak Photography is the right choice for you.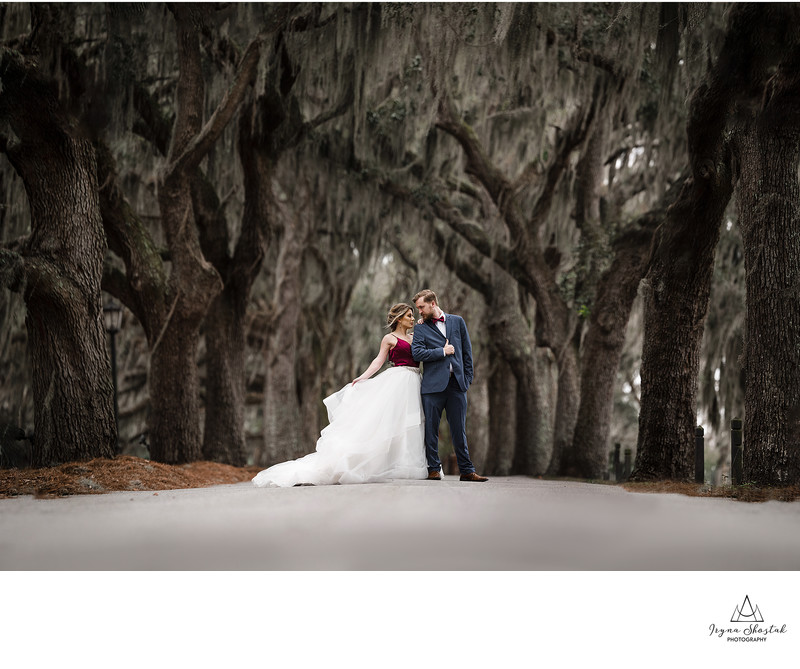 My philosophy
I capture magic of your wedding day and commit to preserve memories that can be seen, touched and felt, every day as you relive them on your walls, in your hands, and in your heart.
I offer only the best wedding albums and wall art in the industry, at a variety of price points. I help you to choose elegant design for your family heirlooms and my selection ease you into gorgeous, decorative art that will remain a joy for years to come.
I recommend at least two hours for couple's and wedding party portraits because I know that you will never again pay so much time, energy and money on your appearance than your wedding day.
You want to look your best and I want to capture it. Surely you wouldn't plan such an important day with so much attention to details without allowing quality photography time.
Family portraits can be done during the getting ready time and it takes 1,5-2 hours. You can read more about my tips for creating the wedding timeline here.
I personally edit all the images from your wedding. This gives them a beautiful, cohesive look that you hired me for! When I am photographing your wedding I am often composing the photo in my head before I take the shot. To me, it only makes sense that I am the one who retouches them because I consider your photos to be like my babies, very precious! In the retouching process, I use my skills learned in editorial and fashion retouching to make sure you look amazing.
You can see my retouching process and what it includes here.
When I get home from photographing your wedding I choose one beautiful image to share with you as I carefully back up your wedding photos. I love this part of the day as I get to reflect on the magic of your wedding!
When you wake up after your wedding you'll be able to view this photo as you start your new life together.
Your full gallery of all your wedding photos will be available in a month.
I appreciate wedding albums because they are so treasured by future generations. I design a 16X12 handmade albums by Finao and offer them in my collections.
We spend together a few hours during the album design session and I will send the design to the print as soon as we agree. The handcrafted wedding album is usually ready in two month.
I create a client portal for you as soon as you sign the contract. Here you will have all your image, a contract and invoices. It's very easy to use, and you can share your photos as well as download them to your computer to print out.
All of my photos are delivered digitally, and you will have a fully curated, edited gallery available online.
The photos are not watermarked in any way. You may print your photos and share them with friends with no worries about logos or watermarks.
This can vary depending on the events at your wedding, the size of your wedding and other factors. I never limit the number of photos I deliver, my aim is to tell the story of your day. So I can't tell you the exact number but I can guarantee you that the one you will see is going to be amazing. It is usually 50-100 photos per hour of coverage.
Anything that does not make the final cut is because it is unflattering (such as blinking or awkward expressions) or because of technical issues or because it is an inferior duplicate. Every photo that you will receive will be of the highest quality!
I love engagement photos and I think everyone should do them. It's like test-driving a car! We have that time to get to know each other and find out if it's a right fit. It's also likely that you haven't been photographed professionally very often, so I think the engagement session helps people relax and feel more confident about the photos on the wedding day. Sessions generally last about two-three hours and can include an outfit change if you wish. During the session, we will have fun, and I'll create some amazing photos for you! I'll do a nice blend of classic portraiture with some special effects like silhouettes, backlighting, and double exposures. You can read useful tips on how to get ready for the engagement session here as well as look for more couple's portraits.
Of course! I like to know what's important to you. Your photo lists, your priorities help me understand what you love!
I take my career very seriously, and I am fully insured. Many venues insist on proof of insurance to make sure that they do not have photographers who are not insured! I consider carrying insurance my guarantee to you that I am invested in my career and your wedding day.
I work on a first-come-first serve basis. There's only one me, and only one of your wedding day! If you want to work with me, I require $1000 retainer and the date is yours.
$1000 retainer is required to secure my services and the balance is due 30 days before the wedding.
If you need to pay after the wedding I am happy to accommodate you, however, your photos will not be edited until payment in full. This may mean you go behind the editing queue and I will work on other weddings until the balance is paid.
It's not unusual for me to book popular dates 18 months to two years in advance, so the sooner the better! Prime Saturdays (May-October) and holiday dates book out very quickly, so don't delay getting in touch if your wedding is on those days.
I will never leave your wedding if you want me to stay longer! We can discuss this at the wedding and I'll send you an invoice for the extra time, no need to worry about paying on the day.
It's not unusual for me to photograph 3 weddings in a week, so I do not offer any discounts on weddings.
I do not require a meal at the reception, but I always appreciate being asked! I am a vegetarian so I don't want you to pay $150 for a few leaves of salad. I always bring some of my own food and snacks so you don't need to worry.
Of course, I know they want to capture their own memories! The only thing I ask is that they are not in front of me during the time I am taking crucial photographs. I find most people are very respectful, but if they interfere with my job I am not shy about asking them to move.
I have extensive experience in lighting, it's one of my signature styles that I can make great photos anywhere. I've made photos in a blizzard, in a parking lot, and in beautiful venues. I've photographed many kinds of cultures, including 3-day Indian weddings that require a very strong knowledge of lighting and long, fast-paced days. I use a variety of off-camera flashes and advanced lighting techniques to create images that absolutely could not be captured by an amateur photographer.
I'm high energy, highly motivated person and I am used to long days and I'm not afraid of hard work! I work diligently in my life to keep my mind and body sharp, so I am prepared for anything at a wedding. I often book Friday, Saturday, and Sunday weddings because I know that I can handle the workload both physically and mentally. I also photograph Indian weddings which are often 3-5 day affairs.
In the unlikely event that I was so incapacitated that I could not be at your wedding, I do have contingencies in place with other talented photographers that have a similar style.
If you have a wedding bigger than 100 guests and lots of locations, I would recommend having a second shooter. All my collections include coverage by two photographers.
Even though I am perfectly capable of photographing the wedding by myself and shoot many weddings solo, I prefer to work with a second photographer.
A second photographer is the same level photographer as I am and they have their own business. I always work with the same team of wedding photographers who knows my requirements and match my style of photography. I am very picky about hiring people so I don't hire newbies.
If you are getting ready at two different locations, I can't be at two places at the same time. Of course, if the one partner wants to get ready two hours earlier than they planned, I would love to photograph it from the beginning till the end by myself.
During multicultural weddings, there are religious ceremonies happening at the same time and I do need a second photographer to help me to photograph it.
A second shooter also gives more variety in photography while working from different angles.
A second photographer helps with covering the cocktail hour, taking pictures of the guests while the main photographer sets up the light for the reception and takes decor photos.
I have back up of every single piece of equipment I own with me at every wedding. It's critically important that a professional photographer is ready for any scenario, including equipment breaking or failure.
Weddings further than 50 miles from zip code 08004 will incur a charge. Please inquire with specifics and I can get you a quote!
If I have never photographed at your venue, I will be on location an hour before I begin coverage to see how the lighting is on the day, and to pre-visualize locations for portraits. This allows me to assess the lighting and other important factors that will affect your photos.
I hear this all the time! You just haven't met the right photographer! Through careful posing and lighting, everyone looks great. I'm there with you every step of the way, showing you some tips and tricks so that you photograph beautifully.
I have never met clients who didn't have a budget! I expect that this is the same thing that happens to you when you buy the other product.
I believe that you are a person of quality! You buy quality, love quality, wear quality, and know that quality costs more than other products.
You saw my portfolio and compared it with other photographers, right? I guarantee you that my prices are even lower than the value I provide.
I'm happy to work with a budget and I offer three collections to choose from and a la carte pricing if you don't have a budget for all those items I included in the collections.
To be fair to all of my clients I do not offer discounts or work gratis for wedding photography.
I have been shooting weddings professionally in Ukraine since 2009. I moved to the USA in September 2016 so I just give you the numbers of weddings I have shot in the USA.
2016 - 1 as a primary photographer.
2017 - 15 as a primary photographer and 13 as a second one.
2018 - 32 and 26
2019 - 43 and 22
2020 - 18 and 3
2021 - 37 and 20
Copyright © 2021 - Atco, New Jersey - (856) 856-9951 - iryna@irynashostak.com