The Most Romantic Locations for a Philadelphia Engagement Session
Rest assured that in the city of brotherly love, there is no shortage of amazing locations for your Philadelphia Engagement Session. In a city built on American perseverance, a passion for freedom and sheer grit, its cobblestone streets, blossoming cherry trees, and historical buildings set the tone for some of the most romantic portrait settings you could dream of.
Whether you grew up in Philly, or came to love it because of moving here for a job or plan on coming here for a destination wedding, there are many iconic places to do engagement sessions in this wonderful city. Here are just a few of my favorites that are truly romantic areas to consider.
The Philadelphia Museum of Arts
Best known for the famous "Rocky" steps, has been standing as a symbol of American at the northwest end of the Benjamin Franklin Parkway since 1928. The stoic columns, the whimsy of the fountain stretched up towards blue skies; there is something especially romantic about capturing your connection in the place where our countries Declaration of Independence was signed.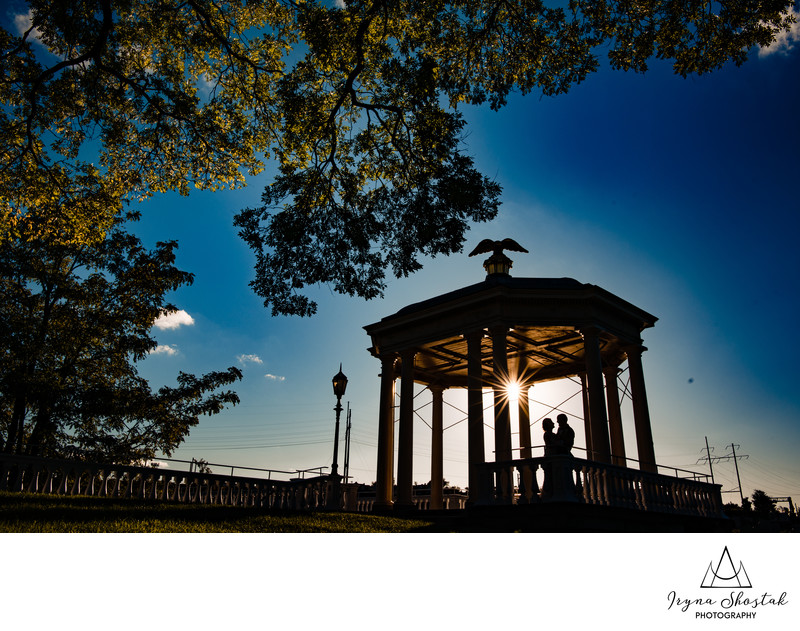 Philadelphia City Hall
When you say City Hall, it conjures up thoughts of justice, or superheroes, or even politics. However, at Iryna Shostak Photography, all we see is fantastic architecture and adventure! The curve of the stairwell, the power of the spire, and the historical architecture are the kind of stoic backdrop one expects from a strong city like Philadelphia. City Hall is located at the end of Broad Street, so we can utilize both amazing locations.
One of my favorite places for creating some truly original and inspired images is on the sidewalk that rolls to the edge of the traffic on Broad Street. In the day time, it feels like a scene in a movie: two lovers still in the chaos of life and traffic. In the evening, illuminated by off-camera lighting, the fleeing headlights, and the city lights it feels a bit dangerous and romantic.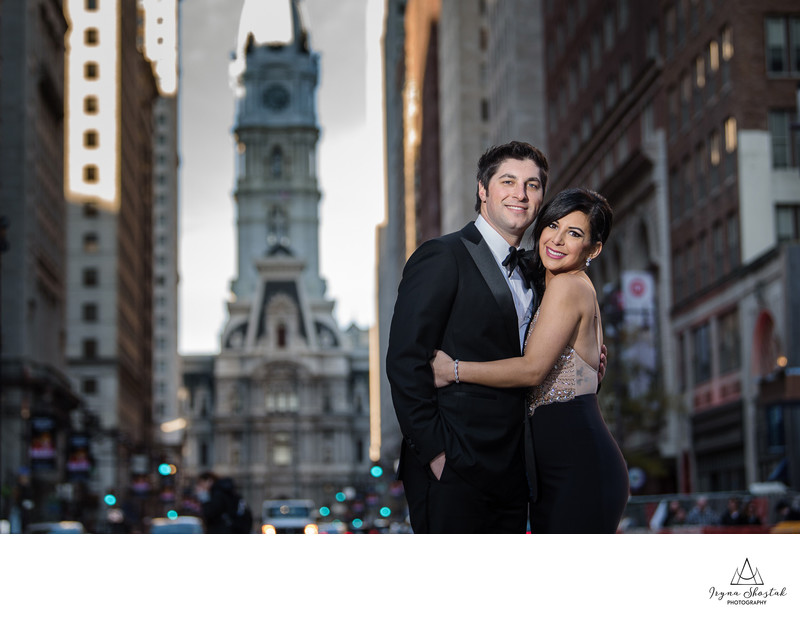 Independence Hall
The story of your love rings true at the Independence Hall Area. Home to the Liberty Bell and Independence Hall, where both the Declaration of Independence and the U.S. Constitution were signed, this natural park is rich with history and colonial brickwork and rolling lawns. There are benches and stolen, candid moments to be had among the bustle of tourists and travelers.
Called the most historic square mile in America, Old City in Philadelphia is as charming as it is vibrant with history. Home to the Betsy Ross House, and close to Independence Hall and Race Street Pier, Old City is alive with colorfully painted colonial homes, fine restaurants, and old-growth natural beauty. Trendy bars and eateries add a hip vibe to this spot so vital to our country's fabric.
The Second Bank and The Merchant Exchange Building are one of the favorite background for engaged couples in Philadelphia.
Race Street Pier
Located on the Delaware River Waterfront is a place of industrial and natural beauty. With the city skyline stretched out beneath blue skies, and under the majestic bridge which rises above you, Race Street Pier is a fantastic spot creating fun engagement portraiture in the sunset or on a bright, sunny afternoon. The layers of greenspaces with walking paths or seated stairs for enjoying the view means there are limitless locations to pick from. The Race Street Pier is ideal for couples who have already fur babies as the area is dog-friendly.
Engagement sessions are my favorite way to get to know you as a couple and to connect before your wedding day. They also help shake off those worries about how you look in photos, and I really believe they help to get the couple excited about their wedding day!
I believe in engagement sessions so much that I include them with every wedding photography package I offer. It's important to me that you feel comfortable with me, and with being photographed. Spending this time together in Philadelphia taking engagement photos is just the start of having the best wedding photos!
If you're wondering what to wear, or what's important to do to prepare for an engagement session, check out some tips that will lead you through every step. I'm always happy to help you with locations, outfits, and themes for your session.
If you're getting married and seeking a wedding photographer who loves to spend time doing romantic, meaningful engagement sessions, get in touch!
Copyright © 2021 - Atco, New Jersey - (856) 856-9951 - iryna@irynashostak.com