Top 11 Photos Every Bride Must Have With Bridesmaids
Top 11 Photos With Your Bridesmaids That You Absolutely Need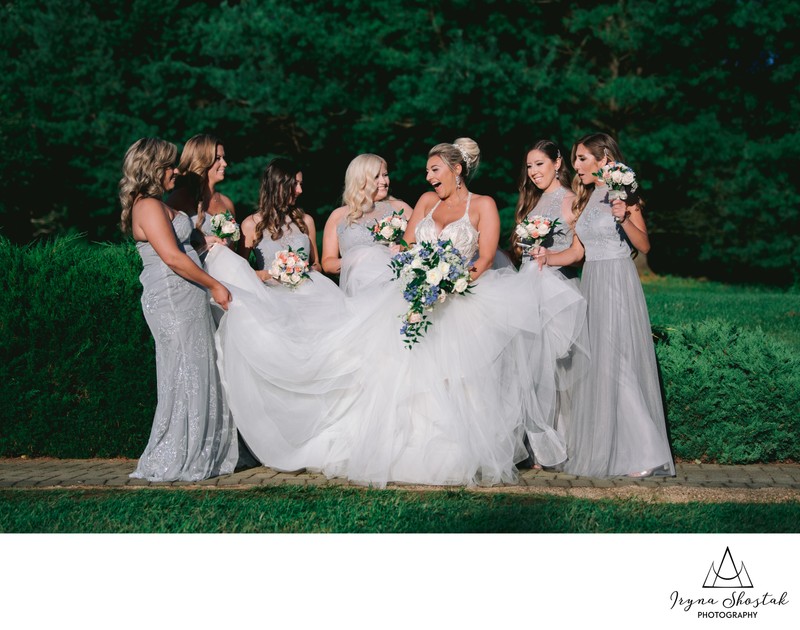 There are plenty of photos you have probably considered taking on your wedding day. From getting ready, the ceremony to pictures with your family and, of course, with the groom.
But what about the ladies that are helping you and have helped throughout the entire wedding planning process? While you know you'll have some time to take group shots of the entire bridal party you'll want to make sure you have these photos with your bridesmaids as you get ready on your big day.
1.Showing Off The Bride
The bridesmaids are the best support for the bride and they make her feel like she is the queen of the day. This portrait shows off the bride and her wedding dress while the bridesmaids are being on the background and having fun.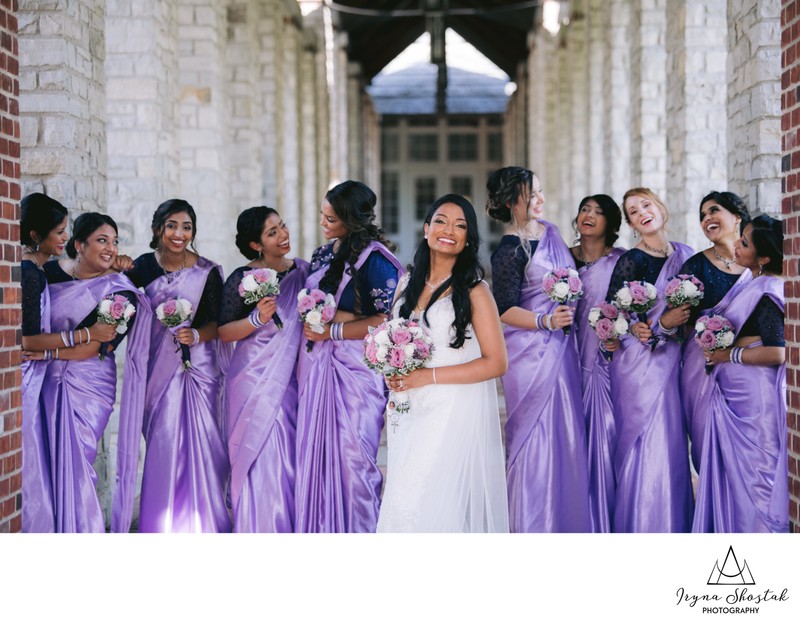 2. First Look With The Bridesmaids
You have heard about the first look for the bride and groom but what about when the bridal party sees the bride for the first time? The bride's first reveal to her bridal party can result in some emotional and memorable photo opportunities.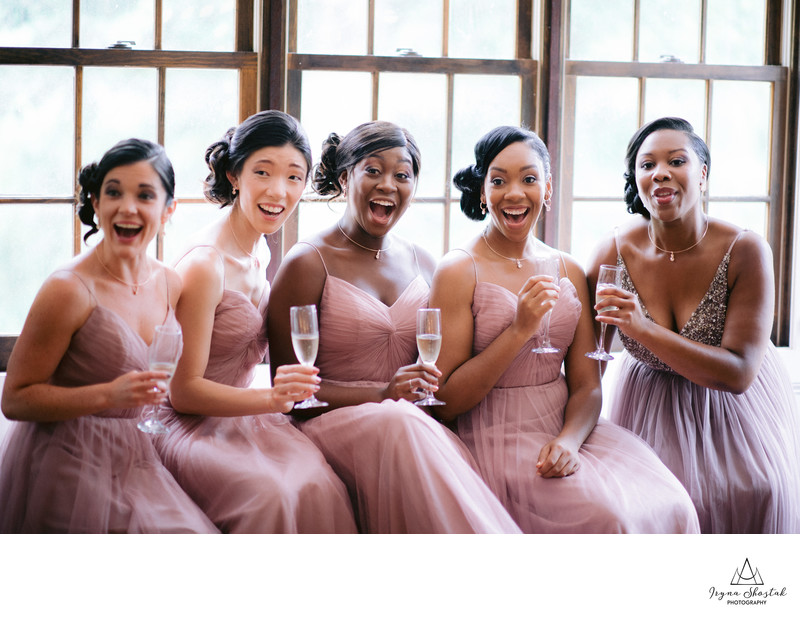 3. Having Fun
As you are getting ready everyone's nerves are a little on edge because everyone wants to look their best. There will be moments when you just need to let loose to relax a little and having a little dance party, jumping on the bed or just being silly are moments that can make for great photo opportunities.
4. Matching Robes Or Shirts
Most brides will have getting ready attire for their bridesmaids and you'll want to capture everyone in their cute and thoughtful pre-wedding wear.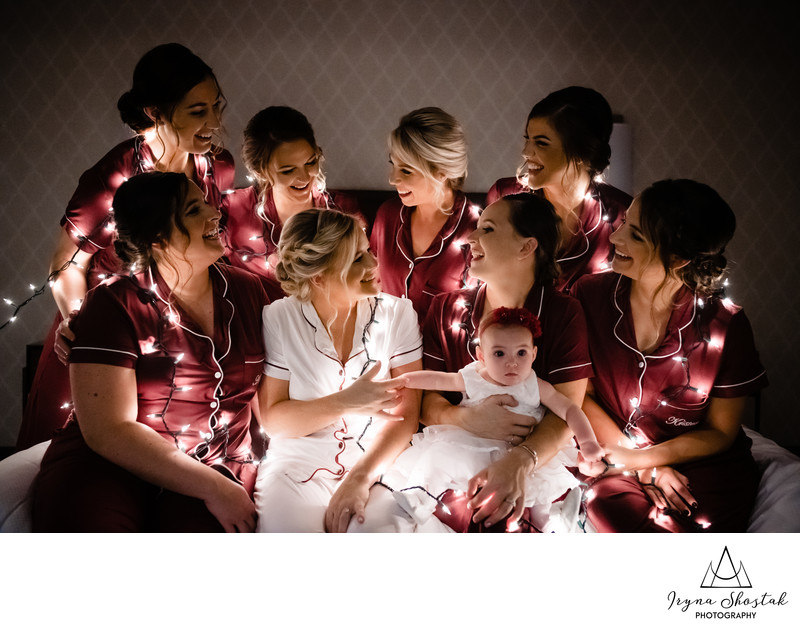 5. Showcase The Back of the Dress
The back of a wedding dress is hidden with beautiful details you'll want to capture. You can pose with all of the bridesmaids to show off their dresses as well or have some great close ups of the bridesmaids helping button, zipper or lace up the back of your dress.
6.High Fashion Portraits
Not every day you have an opportunity to look your best and have a professional photographer around. So you can be sassy and sexy on your portraits, pose like you have been photographed for a magazine cover.
7. Picture In The Picture
The main focus is on the bride here but the bridesmaids are still present in the reflection of the mirror on the wall. This type of photo tells the story of the wedding day perfectly.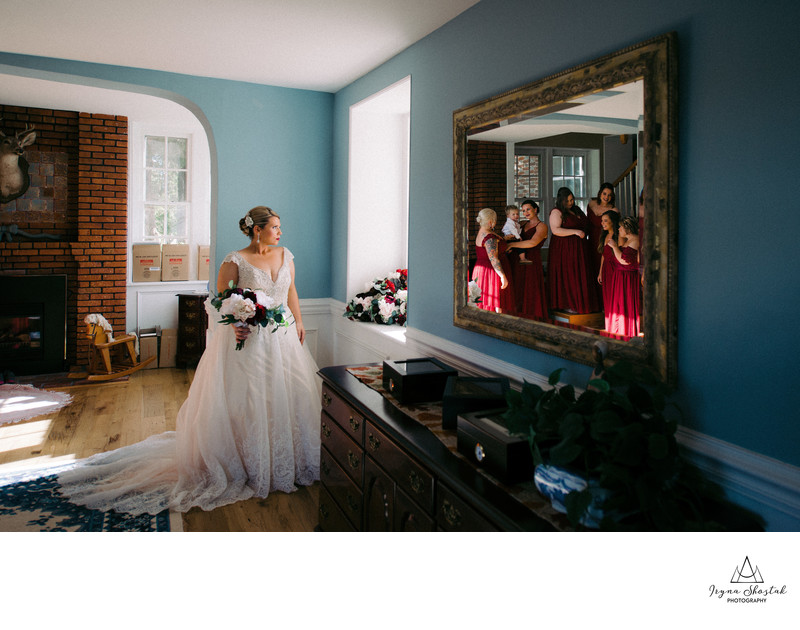 8. Play With Bubbles
Have fun together by remembering your childhood games. Get soap bubbles and enjoy this moment.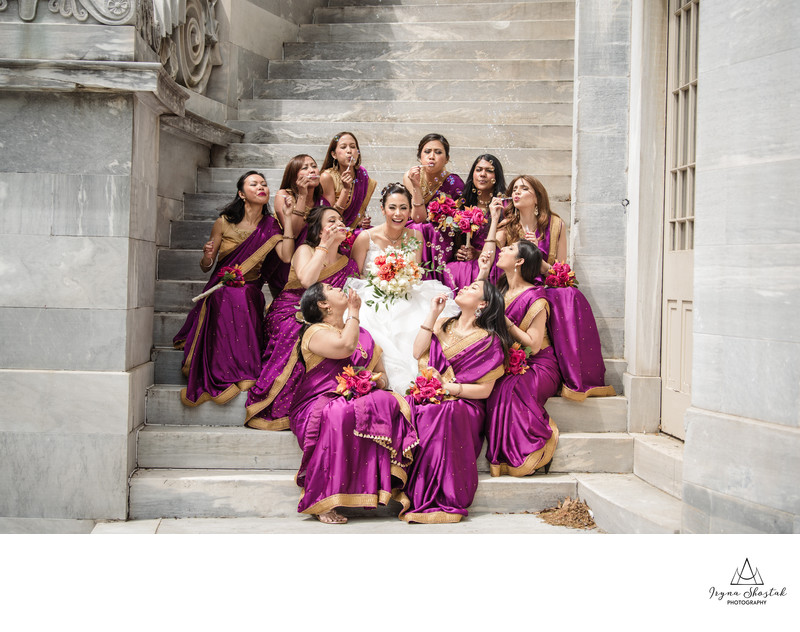 9. Hugging Each Other
Show all your love to the bride by hugging her!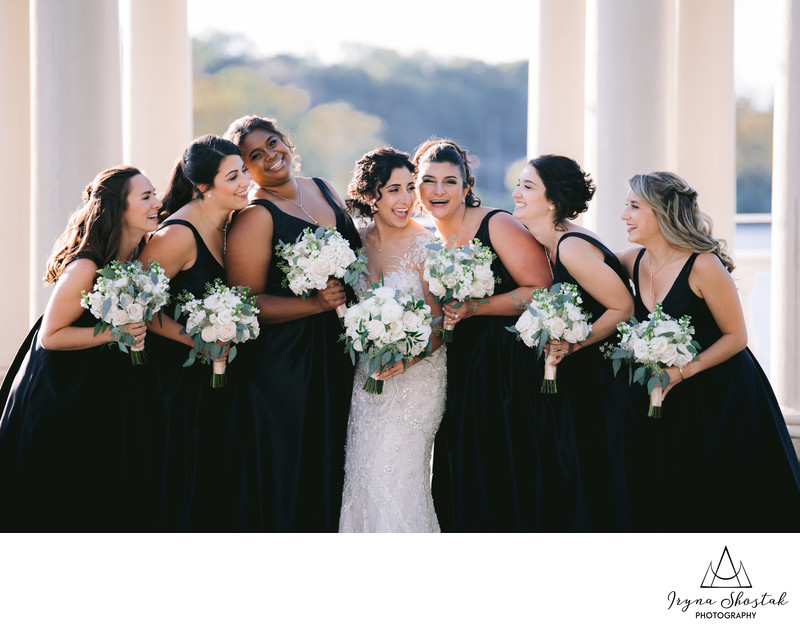 10.Walking Together Like In The Movie Sex And The City
Chain you arms and walk together remembering great moments you had together in your life.
11. Dancing With Sparkles
After the reception is over, you can do a final dance with sparkles and your bridesmaids.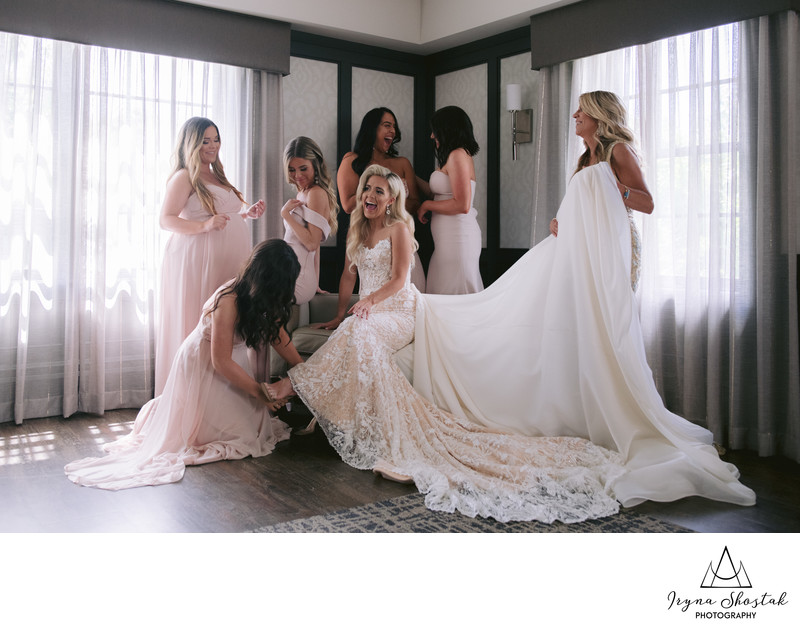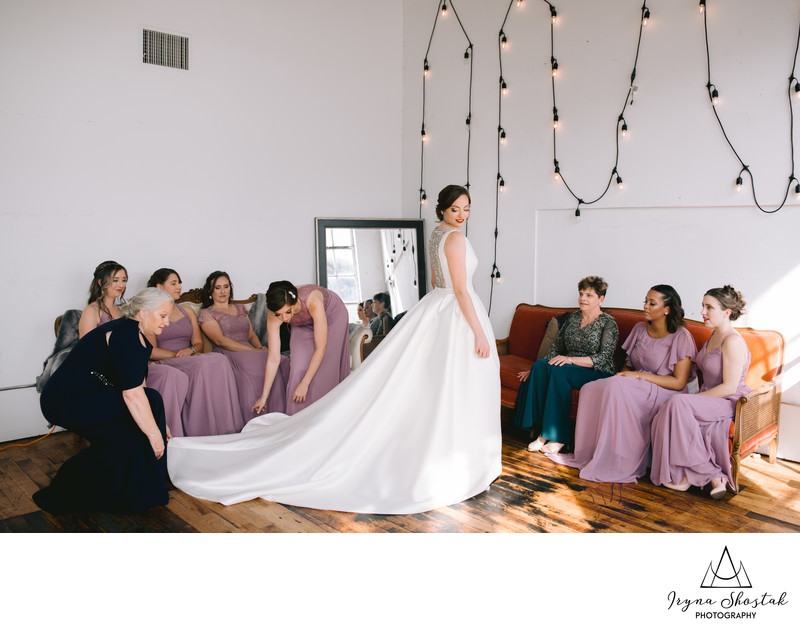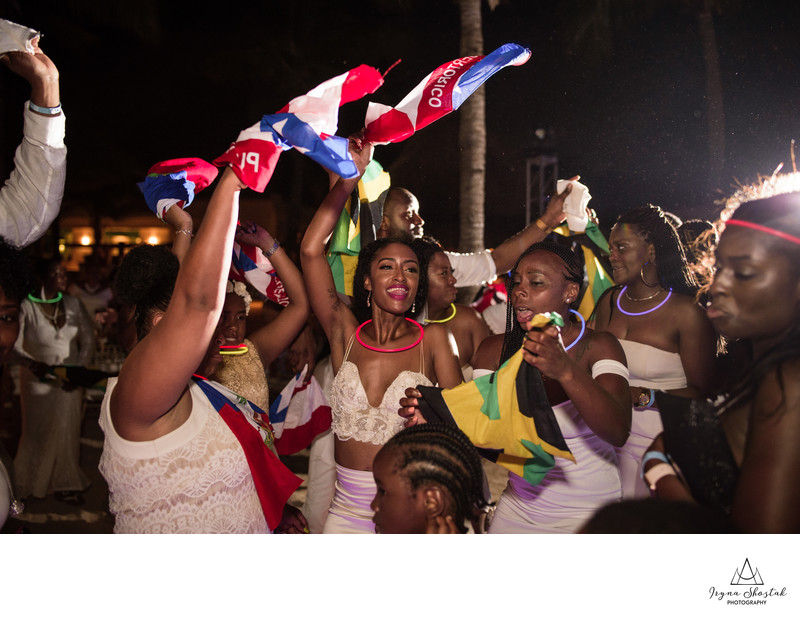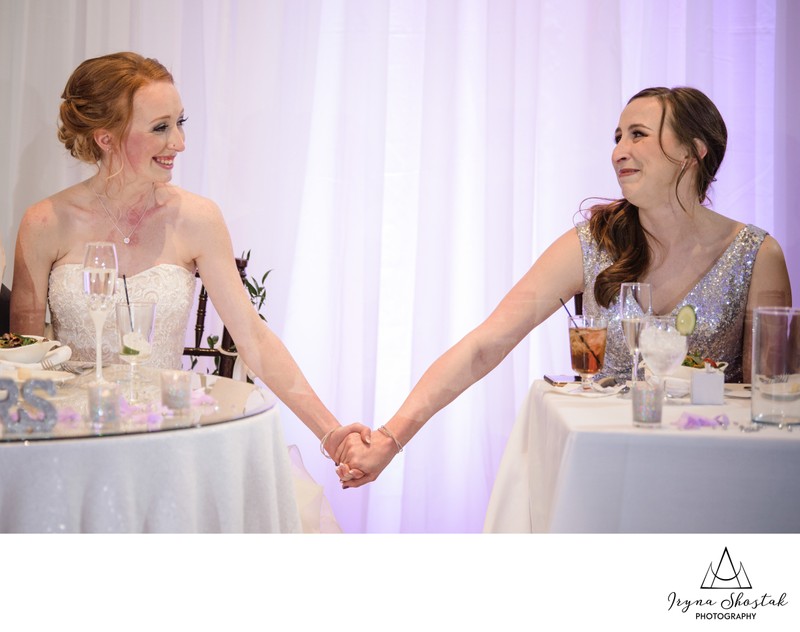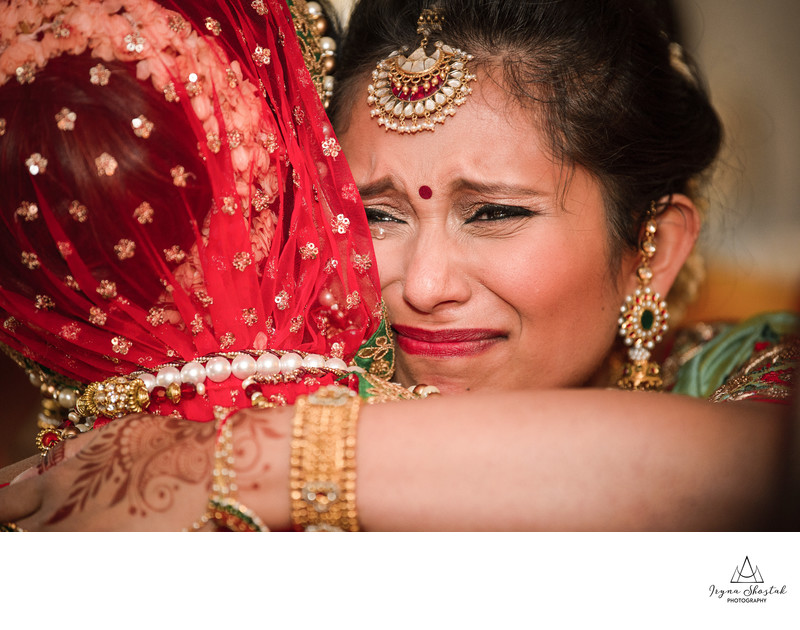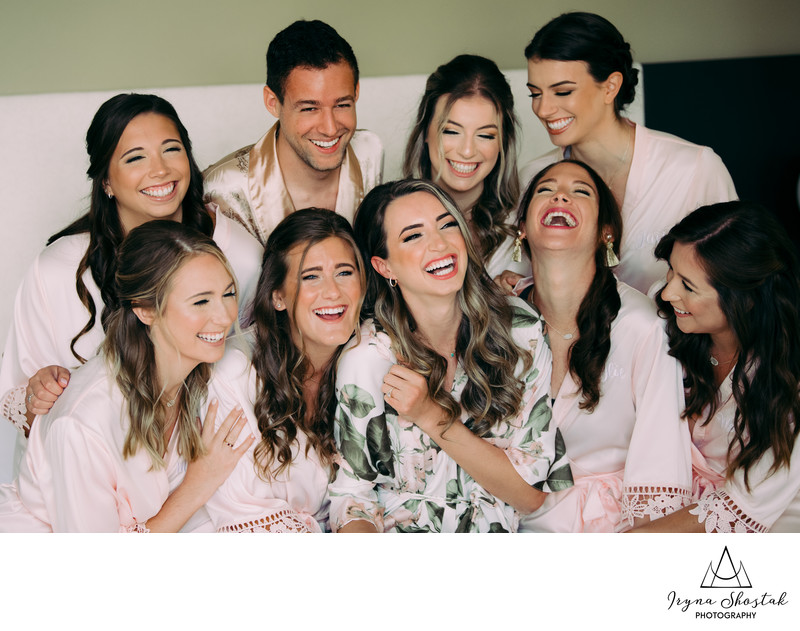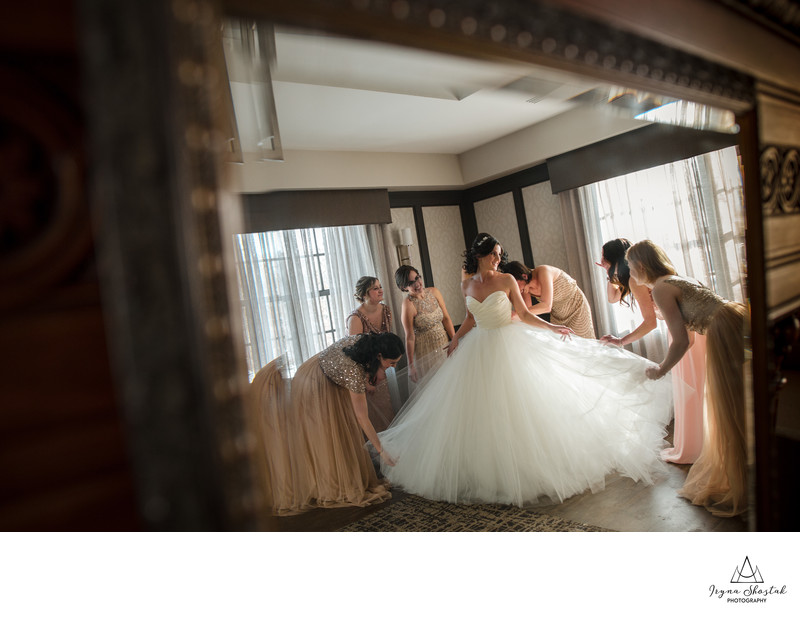 Bride and Bridesmaids' Portraits by Philadelphia Wedding Photographer Iryna Shostak
Wedding party photos are one of the most important and require from 30 minutes up to one hour in order to create well-executed tasteful and elegant wedding imagery.
These images were created during the bridal getting ready time or during the bridal party portraits time before or after the wedding ceremony.
My goal is to create simple, classic and elegant bridal party portraits. In my photos I try to show the connection and feelings between people. I ask a bride and bridesmaids to do something together, e.g. drink champagne, fluff the bridal dress or the veil, help each other to get dresses, fix some details, just have fun and being relaxed at the wedding. Having a real mutual activity connects friends and bring them together for a common goal to look amazing at wedding portraits.
I want create a unique image for every client of mine and avoid any over-posed images or any other wedding cliches. I love when bridesmaids are hugging the bride, framing her. I put lots of energy into my work in order to be efficient and execute the best wedding portraits ever.
Contact Iryna Shostak for your wedding in Philadelphia to book your wedding photographer now!
Location: 2535 River Rd, New Hope, PA 18938.
Copyright © 2021 - Atco, New Jersey - (856) 856-9951 - iryna@irynashostak.com